Frances, also known as Frankie, is a 3-month-old shelter dog recently adopted into her forever home. She's a total mutt—a mixture of cuteness and fun! (and Australian Shepherd). Being just a baby herself, Frankie recommends Owl Ba-bies, written by Marin Waddell and illustrated by Patrick Benson. Frankie's human, Olivia, loved this classic book when her mama (Bookshop owner, Amy) read it to her as a baby, so it only makes sense Frankie loves it too. Like the owl babies, Frankie learned that her mommy will always come back home to her.
76y bnBesides chewing her human's socks (teething is hard!), Frankie loves to snuggle, make new friends, and eat random food she fi nds on the street.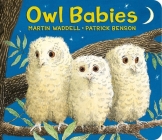 $7.99

ISBN: 9780763679613
Availability: Usually Ships in 1-5 Days
Published: Candlewick - September 8th, 2015
When three baby owls awake one night to fi nd their mother gone, they can't help but wonder where she is. Not surpris-ingly, a joyous fl apping and dancing and bouncing greets her return, lending a celebratory tone to the ending of this com-forting tale.
---