Diego is a 13-year-old, 100-pound polar bear-labrador mix. He
made his way to Ouray, CO, from the Best Friends Animal Sanctuary in Kanab, UT, in November 2017.
Since moving to Ouray, Diego has become a reading therapy dog for the Ouray School and also makes special visits to the Ouray Public Library.
Diego loves everyone and everything — especially doughnuts.
That's why he recommends the book Arnie the Doughnut by Laurie Keller.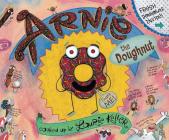 $8.99

ISBN: 9781250079473
Availability: Usually Ships in 1-5 Days
Published: Square Fish - May 10th, 2016
At first glance, Arnie looks like an average doughnut—round, cakey, with a hole in the middle, iced and sprinkled. He was made by one of the best bakeries in town, and admittedly his sprinkles are candy-colored. Still, a doughnut is just a doughnut, right?

WRONG! Not if Arnie has anything to say about it. And, for a doughnut, he sure seems to have an awful lot to say. Can Arnie change the fate of all doughnuts—or at least have a hand in his own future? Well, you'll just have to read this funny story and find out for yourself. This title has Common Core connections
---