Callie, aka Cal Bird, is a rescue dog from the Second Chance Animal shelter.
She is a young, very energetic Vizsla mix that loves skiing, mountain biking, and playing with other dogs.
She loves going for walks with her friends Kona and Pippa.
Callie recommends the book, I Love You Stinky Face by Lisa McCourt.
This is a story of a child who's mom loves them no matter what type of monster they may be.
Callie is also loved unconditionally by her family, no matter what type of little bugger she may be. Scholastic $6.99. Ages 0-3.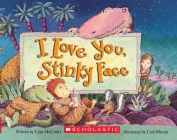 $6.99

ISBN: 9780439635721
Availability: Usually Ships in 1-5 Days
Published: Scholastic Inc. - February 1st, 2004
---