Meet Bruno! (his former racing name was James Madison). Bruno is a gentle-as-can-be red brindle Greyhound who retired from the track at age 2. Now a lazy old hound at 9, he is thriving in the mountains of Ouray! Bookstore employee and local Episcopal priest, Lucas Grubbs, belongs to this lazy speed demon. You'll find Bruno lounging at St. John's church, playing in the Ouray dog park, walking the Uncompahgre River Trail, or passed out for hours on a bed by the fireplace.
He recommends A Greyhound, A Groundhog because he's secretly envious of other Greyhounds in print!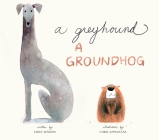 $17.99

ISBN: 9780553498059
Availability: Backordered
Published: Schwartz & Wade - January 3rd, 2017
From a heavyweight author and illustrator duo comes a delicious tongue twister of a picture book that features a little round greyhound and a little round groundhog.

With very spare, incredibly lively language, this is an entertaining read-aloud, with two amazing—and oh-so-adorable—characters at its heart.

When a greyhound meets a groundhog, wordplay and crazy antics ensue. The two animals, much like kids, work themselves into a frenzy as they whirl around and around one another. (Around, round hound. Around, groundhog!) The pace picks up (Around and around and astound and astound!), until they ultimately wear themselves out.
---